As mentioned yesterday here, I was invited to the CAPRI SUN Ready to Re-Wear Runway Show! and what a great experience!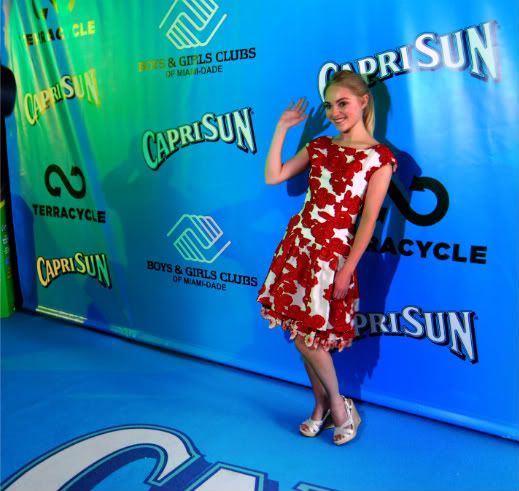 Anna Sophia Robb was the host for the event.  (W
earing a dress by designer Cynthia Steffe).
The show featured clothes from Bloomingdale's and all the accessories where from CapriSun drink pouches. At the end of the show a one of a kind dress designed entirely of CapriSun pouches was presented.
The unique dress, crafted by designer Justina Blakeney of Campai, a company renowned for rehabilitating "used and abused" clothing, is being auctioned online for Charity. Please visit:
All proceeds benefiting the Boys & Girls Clubs of America.
Please keep reading to find out how you can also be a part of the Pouch Brigade and to see more photos from the event.
I applaud CapriSun for such a great way to teach kids, in a very fashionable way, that they can have an impact in their environment just by recycling products that they use in their daily life!
CapriSun partnered with Terracycle, the eco company that has pioneered the concept that any disposable material can be reused and created into something of value, to create fun products out of the CapriSun juice pouches.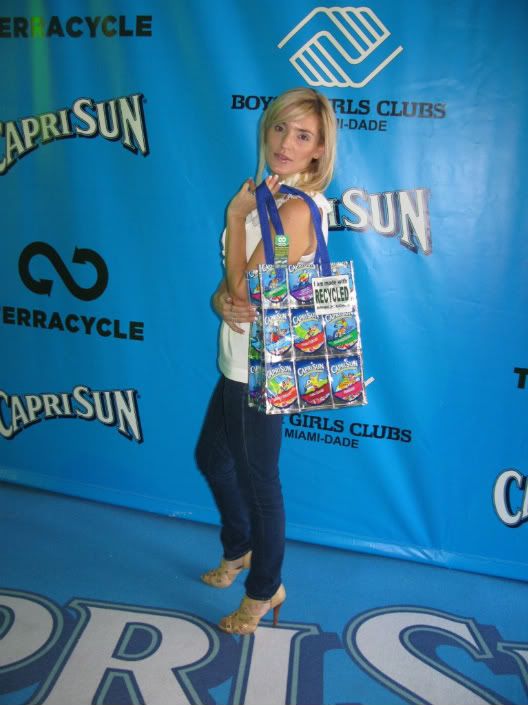 Here is me at the show....the recycle bag is so cool! It is extremely sturdy (much to my surprise)...I took it home and my son loved it!! 

If you want to participate and start your own Pouch Brigade is very simple...

You can visit www.caprisun.com/terracycle and sign up. You can start earning $.02 per pouch for your school..or you can just follow the steps to send the ones you are collecting already.