"Argentine is hot, hot, hot, and so are clothes that evoke its colorful cowboy culture...." as seen in Oprah' Magazine.....and who am I to argue withOprah...much to the contrary I couldn't agree more with this statment.
Even though Argentina is well known for the tango or the famous song "Don't cry for me Argentina", there is a Gaucho culture that is where we gather most of our cultural traits, such as the "mate" - a traditional tea that you drink  with a straw, or the "empanadas" and even our passion for polo..!! 
The Gauchos are the South America equivalent of the cowboys- with their trademark berets and neck scarves. Las Pamapas, is the region surrounding Buenos Aires that is known for vast Estancias and ranches that are the true land of the gauchos.
Inspired by Oprah's article in this months magazine I wanted to share different Gaucho Chic ways you can dress up this Spring.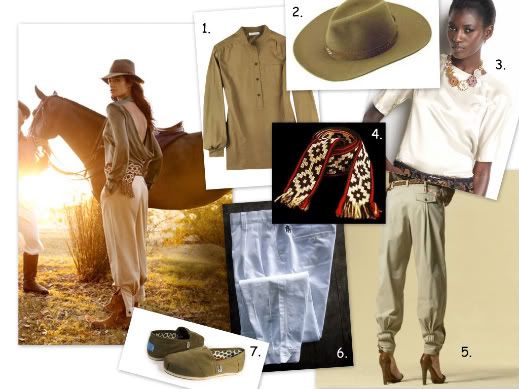 The "bombachas" or gaucho pants are long and slouchy, with a buttoned cuff at the ankle ( to prevent the pant from riding up when riding a horse). If you use it never buttoned the cuff, just leave it open. Bombachas are great pants to show a good "derriere" they are tied at the right places and if you have a little tummy nobody will ever guess. the typical gaucho pants are worn with alpargatas..but if you want to look taller and slimmer go with tall boots or you can match them with some spring sandals.
1.
Chloe
Poplin Shirt $ 695
7.
Toms
"Alpargatas" Hunter Green $ 44
There is something very sexy in a ladylike way when you dress in a fitted long skirt and a silky ruffle blouse...it reminds me of the old times. Don't worry about using a lot of makeup..just some color on your chicks and a neutral shade on your lips and you are ready to go.
Polo play a big part in the Argentine culture, and even though you might not be going to a polo game there is nothing sexier than a woman dress in riding pants. Actually, you usually do  not wear riding pants when you go to  polo games.
The only issue with riding pants they really don't forgive anything...top condition is a must when you using them. If you are wearing a sandy shade, avoid any cellulite mark by using  tan tides under it.
I love this look..so sexy and feminine.