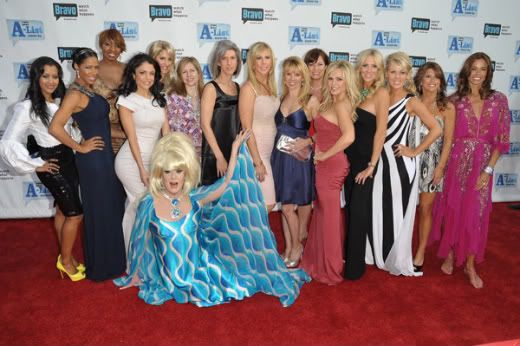 Last night Bravo held its 2nd Annual A-List Award.
The most excepted "reality-TV celebrities" of the night where all the Real Housewives from OC, Atlanta and New York. 
Keep reading to see more photos of the event.
The Real Housewives of Orange County where all present last night and from a fashion perspective just like in real life they where all over it. The best by far was Laurie (black dress with turquoise bib necklace). Tamra in the Cherry gown, was OK but she played it so safe. 
The Real Housewives of Atlanta also showed up representing their personal style..well some of them at least. Love the blue dress and I though overall the white shirt with the skirt and yellow shoes where fun..but I don't think it might have been the right occasion for that outfit. For the other two dresses..no words.
Bennethy Frankel wore a long version of the Rouland Mouret Moond dress that was made famous by  Victoria Beckham two years ago.  But I think she is one of my favourite for the night, from the color of the dress to the jewelry to hair and make up...
Kelly Killoren Bensimon in the pink dress ,  was not looking great last night..(maybe to many issues on her personal life)..but that dress does not compliment her figure at all.
As for Ramona, love her makeup but her dress was just OK. The Countess (that apparently in going through a divorce) was a no show??
Kathy Griffin was the host for the night and she looked fabulous in the sequined dress. Her makeup was very fresh and her hair was just perfect. I think is one of my favourites looks I have seen her in lately. 
Padma Lakshmi looked also fabulous in the Dolce and Gabanna bustier dress.   I think her jewelry was gorgeous.
Rachel Zoe as always is wearing a flowing chiffon dress. What I think was a hit was the combination of grey and gold ..certainly something to remember!
Mila Jovovich wore a nice burgundish short dress.. again more gold jewelry!
Chelsea Handler wore a Dolce & Gabanna bustier tulip dress.. although I love the dress her overall look was not my favourite. Hair and makeup was just to plain..to matchy matchy (gold bag, gold shoes, gold jewelry)..
Jesse McCartney wore a tropical print mini dress from Gucci 2009 Collection with a taupe leather band and some fabulous shoes!



Paris Hilton came in fuchsia (color of the moment) dress and silver pumps and clutch..what can I say she can do a lot of rights but still does not work for me.




Which one was your favourite?




[Image via Wired]