I always like to incorporate new styles to my wardrobe, new recipes to my entrainment, new points of views to my life..so I thought why not have a new contributor that can add some umpf to the Fashion World.
And that is when through conversations with Mina ( one of the fabulous follower of the blog) we decided to start with fashion posts  every Thursday that are 100% her..!!! Something new..a new way of interpreting the fashion world!
....and here is her first inspiration..Flower Time!! perfect for the spring season...!!! Enjoy!!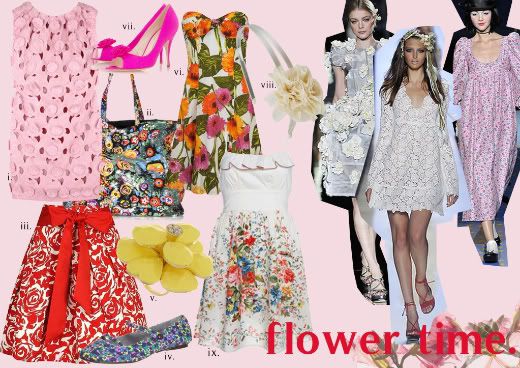 i.  Catherine Malandrino, Flower appliqué dress $595

ii. See by Chloé, Floral canvas tote $160

iii.forever 21, Rose Shadow Puffed Skirt $19.80

iv.TopShop, Floral print canvas shoe $44.00

v.Top Shop, two tier flower ring $30.00

vi. Forever 21, Cindy Strapless Floral Dress $22.80

vii.Briant Atwood. Fuchsia peep-toe pumps $765

viii. Forever 21, Chiffon Flower Headband $4.80

ix.TopShop, print Empire frill dress $70.00

Mina, thank you so much for your fabulous post...for jumping on board and having fun with this new project..and for being an inspiration! You are such a fabulous lady!
ohh I forgot..Mina has a degree in fashion!! How cools is that!
I just can wait to see your next creation!