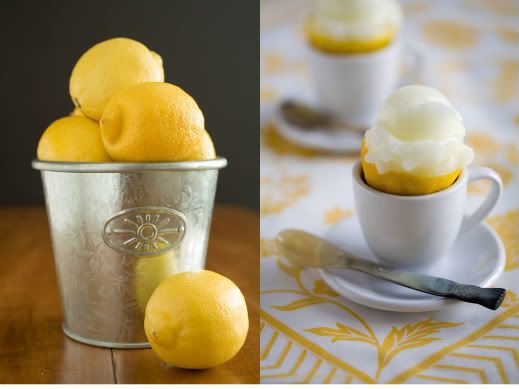 I love to finish a nice dinner, lunch or get together with a taste of Lemon Sorbet. I first started doing it because apparently it helps your digestion..and after it became a trademark..the same way you offer coffee you can also offer some great lemon sorbet.

Something to consider for Eater Brunch..

You can make the sorbet from scratch ( it is very easy) or you can buy Lemon or Lime Sorbet and just place it inside the fruit shell. 
If this is going to be your main dessert you can also add some oranges shells  (with orange sorbet)...and voila you have color, flavor..and in just 5 minutes!
Keep reading for the recipe and how-to clean the lemon.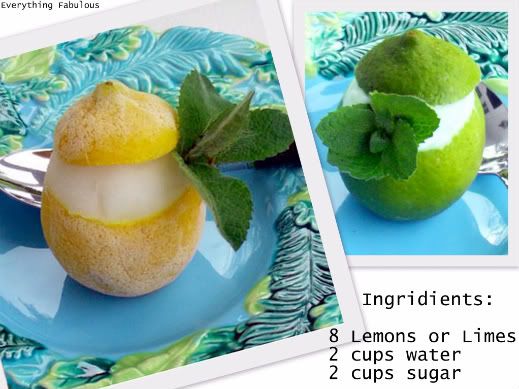 Serving Cups



Slightly cut the stem end of the lemon or lime, creating a flat surface so it will stand up straight. Cut about ½" of the top of lemon or lime to use as the lid. Using a sharp knife, cut around the inside of the fruit and carefully pull out the pulp. Freeze the lemon or lime cup while preparing the sorbet.

Sorbet
In a small saucepan over medium heat, make a simple syrup by combining the water and sugar. Heat until the sugar is dissolved. Remove from heat and let cool. Add lemon juice and zest to syrup and refrigerate until cold.

Place mixture in ice cream machine and freeze according to manufacturer's directions.

Fill cups with sorbet. At this point, cups can be re-frozen until ready to serve. (Frozen sorbets in shells may be wrapped individually in plastic wrap and kept in freezer 1 week.) Garnish with mint and serve immediately.

[Image and Source Photo-per Diem and Carolyne Roehm]