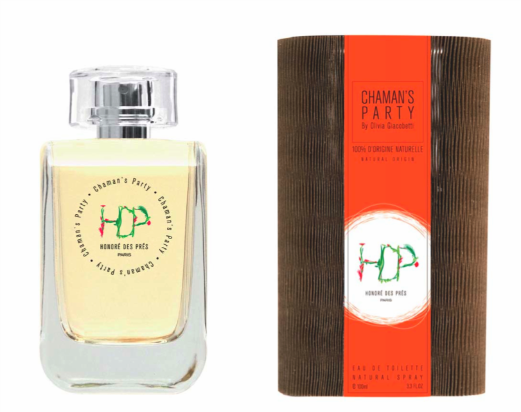 The hip new house of Honoré des Prés launched in Paris in November 2008 with a slogan, "Rich is Simple", and a mission: offer a line of 100% organic, phthalate-free, colorant-free fragrances that could live up to the standards of fine French perfumery.

Composed of five different scents: Sexy Angelic, Nu Green, Chaman's Party, Honoré's Trip and Bonté's Bloom…each scent has a story, each story, an aura.

Honoré des Prés fragrances are completely 100% natural and certified organic by ECOCERT and is the first French organic Perfume to hit the American Market.

Great Green present for Mother's Day!

Keep reading to find out more about the perfume and the different scents.

And who is Mr. Honoré des Prés, you might ask? The eccentric, night-clubbing, nature-loving and hopelessly romantic aristocrat is the brainchild of the brand's creator, Christian David (formerly of Dior and Sisley), who created a cast of quirky characters to embody each fragrance. The name Honoré des Prés is actually a contraction of the names of the two aristocratic quarters of Paris, the Faubourg Saint-Honoré and Saint-Germain-des-Prés.




Bonte's Bloom - summery, sunny and feminine - is inspired by a dreamlike summer voyage; dressed in white muslin and wearing a vintage hat, you walk alongside sunflower fields in a warm sun-kissed afternoon and marvel at dragonflies and butterflies. Sunflowers, South Indian flowers, wild Moroccan blue chamomile, fresh citrus fruit leaves from Paraguay, sage leaves – those that the wild honeybees prefer – and a drop of white iris butter to add a touch of "vintage chic".

Chaman's Party - deep, woodsy and complex - is an explosive unisex fragrance with aphrodisiac properties. Inspired by a tree-house experience and total immersion in the heart of the virgin Amazon forest. Intended for those who know, be they women or men, how to breathe in the earth's strength. Vetiver root from Haiti, sacred basil from Egypt, Wood of Life from Venezuela, dried clove flowers from Madagascar.

Honoré's Trip - a citrus explosion - saturated with citrus fruit, saturated with color, saturated with Mediterranean fruit, saturated with freshness… An explosive cocktail of pure tangerine extracts, Mediterranean oranges, all yellow and green lemons, together with spicy pepper taken from trees in the Philippine Islands.

Nu Green - light, minty and dewey - is inspired by a spring morning's refreshing swim in a natural rock pool in the heart of nature. You sense how this beneficial water purifies and sheds the superficial. A ruffle of crumpled green mint leaves, enveloping dewy grass with Indian botanical musk, clumps of monastic medicinal tarragon and cedar wood.

Sexy Angelic - soft, gentle and sweet - this girls' perfume reveals a girl's secret love elixir… Inspired by a deliciously sweet experience of French marzipan candies. The pure secret of seduction used by French women to meet their Prince Charming! Described as "A fresh almond fruit caress rubbed onto weeping maidens' cleansed skin." with a snip of hemlock flower, a touch of Angelica flower seed and a hint of freshly baked "Calisson" marzipan candy from Aix en Provence. A baby powder soft, subtly sweet, feminine scent.

To fin out where you can buy it go here.

Source & Source