Elizabeth Banks looks fabulous wearing a one-shouldered Armani Privé Spring 2009 red gown. The silhouette of the gown fitted her beautifully, the tone worked with her skin..my only thing was that it got a little bit lost in the red carpet...But overall it was one of my favorites of the night!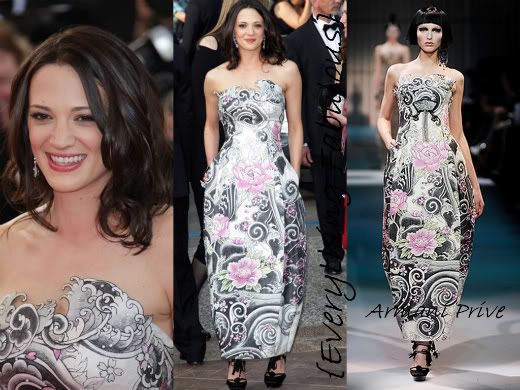 Asia Argento wore a Armani Privé Spring 2009 Asian print strapless bell-shaped gown. Overall I think the entire looked worked! Her hair , makeup, color and shape of the dress...it was not old Hollywood but still looked good on her.


Isabelle Huppert looked very glamorous wearing a nude Armani Privé Spring 2009 gown. The dress had an embroided overlay embellished with jewels. Another one of my favourite dress of the night. Love how she tailored the dress appropriately and the tan color of the dress was just divine. My only ups.. was that although there where some encrusted silver jewels in the dress the silver bracelet did not do it for me..still I think A+.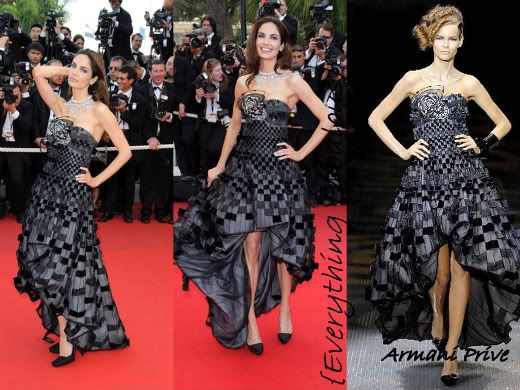 Model Eugenia Silva wore a black and grey checked Armani Privé Spring 2008 gown, with a rise and fall hem. I think it was probably a fun dress to wear but did not stand out of the crowd with it.


Love Cannes Film festival because there is such an old time glamour to it!! And tonight it felt that the festival has started..!!

Which one was the dress of your choice?


[Images via Style.com & WireImage]