Photographed by Mario Testino, Cameron Diaz is on the cover of
Vogue
June 2009. There is no denying her beauty, it never was..but this time around there is a certain quietness, a level of comfort in her own skin that I found it to be even more interesting than just the cute California girl. Evolving as an actress is their ultimate goal..but that is impossible to achieve if they do not evolve as a human being. She is out promoting her new film, where she portraits somebody very out-of-character of her typical roles. In her new film, out this month. It's called My Sister's Keeper, and if you were to describe it in a too-fast kind of way, you might say it is about the death of a child. But if you were to describe it in a more leisurely manner—in a far-right-lane kind of way—you could say it is about a family, and how that family deals with the death of a child, and with the painful machinations of the heart. "It's about falling in love," she says, eyes on the road. "It's about all different kinds of love. Parents falling in love with their children. Children falling in love with their parents. Falling in love for the first time. Falling in love with being a teenager. All of the things that you fall in love with, that our hearts give way to over a lifetime, and then the heartbreaks when those things get taken away."
When asked about her own Father's death during filming of the movie, she says, "It's the human experience," she says of death as we finally leave the L.A. traffic behind. "You know, that's what the heart does. Things are given to us, and things are taken away. And I think the heart becomes stronger, more capable.

Keep reading to see more pictures.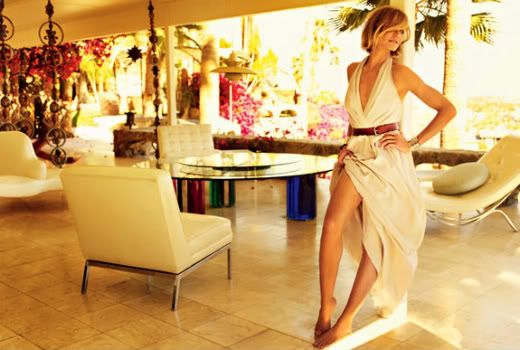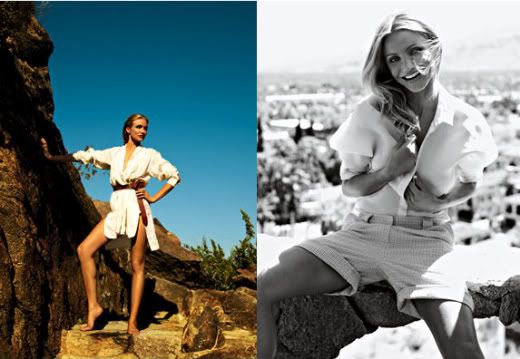 When asked the director of the film about Cameron, this is what he had to say: "I'll tell you something about Cameron," he goes on. "If you were going to build a female movie star as a bionic robo actress, you would build her. She's beautiful. She's athletic. The camera loves her. She's free and easy. She understands the process. The crew loves her, and she's a hard worker."

The complete story appears in the June 2009 issue of Vogue.