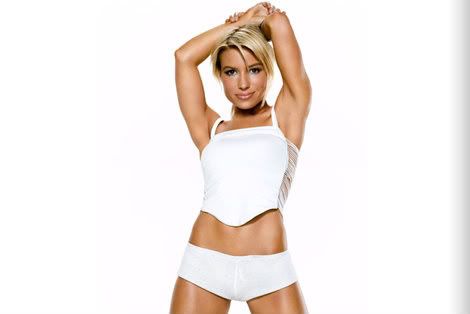 Have you heard about
Tracy Anderson
? She is the
haute
celebrity trainer that changed Madonna's bulky muscular body and helped Gweneth
Paltrow
loose inches and get her
pre
-baby body back.
Anderson's
method has become famous not just for trimming bodies but also for transforming them. Her approach, in a nutshell, is about targeting what she calls the "accessory muscles" that line large muscle groups like biceps and quadriceps to achieve an effect that makes your limbs lean and your body teeny-tiny. "They're the beauty muscles," she says.
And what better way to motivate ourselves for bikini season than to get her essential moves (see video) and dance to the her must
playlist
( we might not share Gweneth's trainer but we sure can exercise to the same bit)..
Here, the top workout tunes most on
Anderson's
playlist
:
1. "Radar," Britney Spears

2. "Miles Away," Madonna

3. "Viva La Vida,"
Coldplay
4. "
Jai
Ho," A.R.
Rahman
,
Sukhvinder
Singh,
Tanvi
Shah and
Mahalaxmi
Iyer
(from
Slumdog
Millionaire)
5. "Incredible," Madonna

7. "Release Me," Agnes
Carlsson
8. "Give It 2 Me," Madonna

9. "If U Seek Amy," Britney Spears

10. "Look at Me Now," Agnes
Carlsson
11. "Just Dance," Lady
GaGa
& Colby O'
Donis
12. "Stronger,"
Kanye
West
13. "Closer," Ne-Yo

14. "Lose Control," Missy Elliott featuring
Ciara
and Fat Man Scoop
Keep reading to see Tracy's basic moves plus helpful links to get her
webisodes
.

Initiation fees run from $787.50 to $1,500, depending on the length of membership, and the $900 monthly dues include unlimited classes and semiprivate sessions.




If you are

extremly

motivated to get lean and trim for summer season you can visit her at

Tracy Anderson Connect

and download the

webisodes

(so far she has three different ones- abs workout, butt&thighs & arms workout). As a true

Madonaa's

friend all proceeds form her

webisodes

will go to Raising Malawi Foundation. Note: each

webisode

is only $10 (not bad).




and voila...we are set to start our mini-body transformation!

What are your top workout tunes?