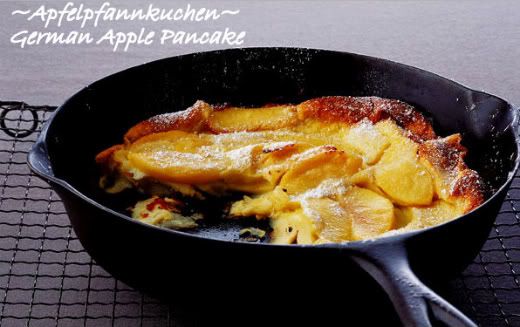 If you like tarts or cakes, you are going to love this German apple cake! Perfect dish to make for a intimate Sunday brunch, and take the leftovers to a picnic somewhere to celebrate Memorial Day! The traditional way of making it is to flip the pancake in the pan while on the stove but you can also end up cooking it in the oven.
Enjoy!

Ingredients
5 large eggs
2 tsp vanilla extract
1/2 cup Plus 1 tbsp granulated sugar
1/3 cup ALL-PURPOSE FLOUR
1 tsp baking powder
1/8 tsp fine salt
1 1/2 tbsp insulated butter
2 large, tart apples, peeled, cored, and cut into wedges ( I love apples so I usually use at least 4 apples. if you double the apples, double the butter the rest is the same!)
1 tsp ground Cinnamon
1 tbsp confectionery sugar

Preparation
1. Preheat oven to 375F (190C)
2. Combine eggs, vanilla and 1/2 cup granulated sugar in blender. add the flour, baking powder and salt and mix until smooth. Let it stand for at least 10 minutes.
3. Melt butter in a nonstick ovenproof pan over medium heat.
4. When the butter has foamed saute the apples, stirring occasionally until softened, approx 3-4minutes.
5. Sprinkle the apples with cinnamon and the rest of the granulated sugar. Saute until apples are glazed and the edges are a little bit translucent, approximately 2 minutes.
6. Arrange the apples evenly in the pan and pour the mix slowly over the top ( try to have the apples stay in place).
7. Reduce heat to medium low and cook for about 8 to 10 minutes, until bottom is firm.
8. transfer the pan to the oven and cook until the top of the pancake is firm, about 10 more minutes.
9. You can invert the pancake into a plate or just put it on the table with the pan.

if it's just the family I love to just put the pan in the table. Sprinkle with confectionery sugar. You can serve with some creme fraiche !
and voila...a fabulous breakfast/brunch pancake!!

What is your favorite brunch dish?