Remember Ines de La Fresange? The muse for Lagarfeld and Mugler in the '80s, the same one that was chosen as s symbol of the country (France) in 1989? She was probably one of the first top models that I started noticing...and the old time symbol of chicness for me. She taught me the love of white shirts. Today Ines de la Fressange is in charge of reinventing Roger Vivier, the legendary French footwear label. an she sat down with
Interview Magazine
to talk about hose she got here.
"AFTER HAVING BEEN PR, BOUTIQUE DIRECTOR, OPERATOR, MESSENGER, AND EVERYTHING ELSE, I'M FINALLY IN THE ROLE I LIKE THE MOST-COURT JESTER."


—INES DE LA FRESSANGE

I love the fact that Ines was on top of the world at one point but but she was humble enough to do whatever was needed to get the job done. From folding shoes herself, to sending mailings. These are the type of people that I like meeting, the ones that have a range to their personalities that they are not define for one moment int heir life, rather they keep defining themselves and therefore their reality as they go... Under her guidance, Vivier has gone from an iconic name of the past to a wildly-expanding hot commodity. It doesn't hurt that de la Fressange thinks fashion is best served with wine over lunch instead of as a sales pitch. (love the wine part myself! fashion and wine, fabulous!!)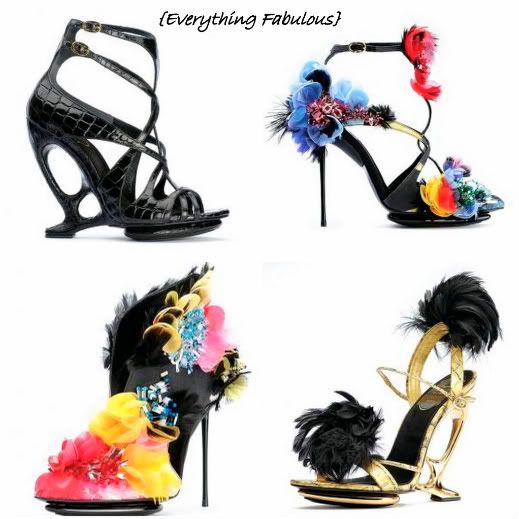 Read more of her interview..love her take in what fashion really is..



SARAH: How did you get on board at Roger Vivier?
INÈS DE LA FRESSANGE: Well, that's why I really love [Diego] Della Valle, because he's crazy. Instead of going out to find a top business school graduate, for whom it would have taken five years to see the difference between a ballet shoe and a book, he asked me to revive the label. It's a bit like Balenciaga. Brands like Vivier are pillars—they are monuments of fashion; they are names we don't forget. But the general public doesn't necessarily know that and therefore we had to get the name re-known.

S: When was that you join?
IF: It was 1995 or '96. It wasn't really the vintage period, so maybe it was a bit too soon. But he was a great teacher and I have a lot of respect for him. All shoe designers were inspired by him, since he went in so many directions. So, when Della Valle proposed my coming over, I loved the idea. This Vivier office didn't exist. I didn't have a telephone line, or a bank account. I had a cell phone and a laptop. People were calling me as if I were the press director at Dior. Like, "Send us 10 pictures." Ten pictures with my phone, you don't know how long that took! And we're making the packets ourselves. It was very funny to be putting together a luxury brand on all fours. Even when we moved in here, one minute I was letting in Anna Wintour, and the next I was going to buy garbage cans. I was going to the flea markets to buy furniture. It was getting done the way it was getting done—on a small scale and with a lot of soul and heart and risk. We did fashion like fashion was done before—spontaneously, with joy and freedom, and that's what created our identity.

S: Now that it's becoming a great empire, are you still going to keep up that kind of intense creativity?
IF: One thing Della Valle taught me is the power to say no if something isn't right. That mattered even over sales. Now it's rolling and finally, after having been PR, boutique director, operator, messenger, and everything else, I'm finally in the role I like the most—court jester. And that's what I was doing at Chanel before.

S: Your creativity is still expressed in the company, like when you chose to make those bags out of paper.
IF: We had to get Vivier known a bit in Hong Kong. I said to myself, There are all these labels coming into China throwing gloomy receptions at the boutiques, giving out fetid champagne. I wanted them to understand that Vivier was different. That you could be luxurious without being uptight. That you could be French without being conventional and grim. So I did a collection of useless and absurd bags in Hong Kong. I got the label known in two days because of it. It's important to keep up the idea of the brand, even beyond sales. I did these lunches. I would invite a writer, a psychoanalyst, a banker, a lawyer, a mind reader, a fashion journalist, and an actress, or something like that. And in the room there would be 20,000 sheets of silver leaf and Vivier's collages . . . The people would laugh a lot, we'd drink a huge amount, the food and wine were exquisite, and then they would leave. The journalist couldn't believe she was leaving without a press packet. I thought this was the way the name would become known, you see? I remember a lunch with Catherine Deneuve and Bernard Chapuis.

S: How do you see fashion evolving?

IF: Fashion is made up of paradoxes. There was a key moment in fashion. When the Japanese first arrived—Comme des Garçons, Yohji Yamamoto, and all—I have to humbly admit that I didn't understand the importance of it at all. It was Jean-Jacques Picart who explained it to me. They had a huge influence in that they showed that aestheticism could be different from prettiness, that there was beauty and that beauty was beyond pretty. They showed girls who had plaster spots on their faces, who looked like they were coming out of a nuclear war, with clodhoppers and no tights, their hair a mess. And then there's the influence on someone like Giorgio Armani. For example, I knew Armani—I really come off as an old lady here—but his line looked like a Pierre Cardin or an Yves Saint Laurent collection when I first met him. After the Japanese, all of a sudden there were those round collars, girls with square-cut hair, almost no makeup, no jewelry, no nail polish—the beautiful Armani, you know, from the '80s. That was clearly the influence of the Japanese. But overall when you work in fashion, you're always in a rush. You're always a little late, always in a hurry. Every single moment's important, so you never have enough time to do what you want to do. It's ridiculous.

S: In everybody's mind. When you ask people anywhere who represents French elegance, you're the one they mention.
IF: I'd take my father's V-neck sweaters and some
topsiders, which were the ancestors of Converse sneakers, and I'd wear those with jeans and a fur coat.

S: You were improvising then.
IF: Absolutely. One day, I just had white pants, a big white jacket, a white fedora. On a whim, I took a burnt cork and gave myself a big moustache, Aldo Maccione–style, all bent over like an old playboy, and I was clowning around with my big fat moustache. It was so much fun. Now everybody says "sexy" all the time. We absolutely never said "sexy" back then. I was being silly, so I didn't really stand out, but I was a clown.


I like the Vivre shoes but more like a piece of art..I really don't know if I could wear them ( if price was not an issue).  Do you like Vivre shoes> would you wear them?
Source