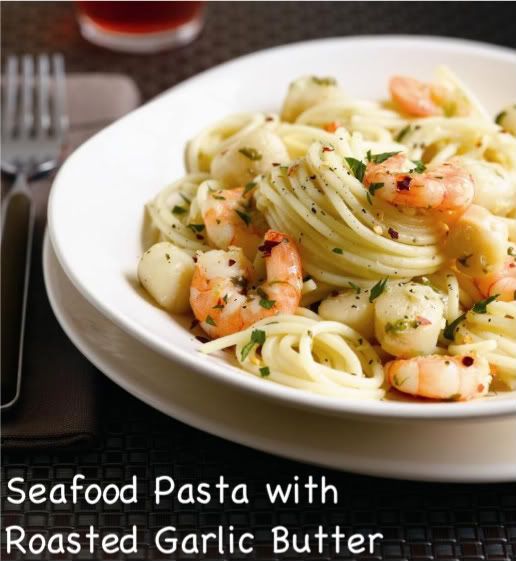 A fabulous pasta dish that you can prepare in 15 minutes. Great for a mid-week meal with the family or friends. A good rose would go very well with this pasta dish. Stock your freezer with frozen shrimp (peeled and and deveined) and you can prepare this dish in 10 minutes. 


Ingredients
300g (1 box) dried spaghetti
2 tablespoon unsalted Butter
6 cloves garlic, chopped coarsely
1⁄2 cup finely chopped onions
1 pound medium shrimp - defrosted
2 tablespoons chopped fresh rosemary, plus 4 to 6 sprigs for garnish
Kosher salt to taste
Cracked black pepper to taste

Preparation
1. Bring a large pan of water to boil. Add the spaghetti and cook for 8-10 minutes until just cooked (al dente).
2. Meanwhile, melt the butter with the garlic in a medium frying pan, add the sliced onions and saute for 2-3 minutes. Stir in the shrimp, and cook for a further 2-3 minutes until just cooked and very hot ( if using frozen shrimp just cook for 6-8 more minutes).
3. Drain the spaghetti then tip it over the shrimp and the buttery juice. Mix well and season with cracked black pepper & salt. Add parsley and mix all together. ( I personally like to add a little bit of lemon juice..but the recipe does not call for it).
4. Transfer to a serving dish and garnish with the fresh parsley.

You can use if wanted some Parmesan cheese (although I learned with Victoria Amory that pasta and seafood should not be garnished with cheese..). You can try other seafood with this recipe.

and voila...it is a very simple dish that you can make in 5 minutes that  with good bread, wine and friends make for a perfect Friday night meal!

What is your favorite meal for a casual Friday night with friends?