Matthew McConaughey's Airstream trailer has been his home/office for at least the last 4 years. The trailer is parked in Malibu, with "surfing right down the street." And I have to be honest I have been extremely curious to see what it looked inside. He started his media rounds promoting his new movie "Surfers, Dude" and I guess as part of it he finally opened the doors to his Airstream house on the road.

"I've always loved driving'," he proclaims in his Texas twang. "Driving' is, number one, where I get some time with myself. Number two, it's the main place I catch up on music. And number three, it's the best way to see the country.Matthew McConaughey customized his 2004 Airstream International CCD 28 with a practical mind-set. "If it looks good but it's not functional, then it's not worth anything," he says. And it shows..the decor is extremely simple, you would never guess it belong to a two figure salary actor..but then again that is what it is always so charming about him...he is true to himself!!! Keep reading for pictures of the trailer.

Those 28 feet encompass a living area with a banquette and a dining table/desk; a streamlined kitchen; a toilet and shower; and a snug bedroom that the actor refers to as the Honeycomb on account of its rounded ceiling and golden hues. "It's got a great window right above your pillow, so when you wake up in the morning, you're looking right at the ocean or wherever your backyard is that day," he says.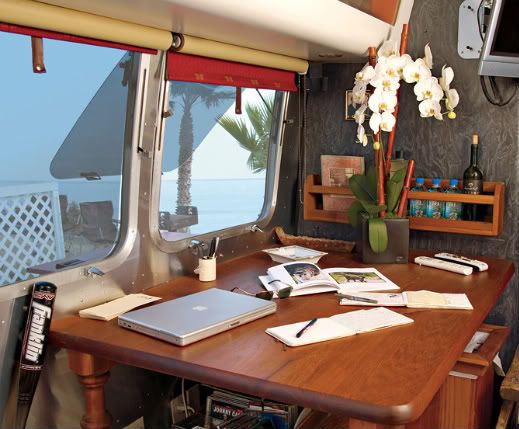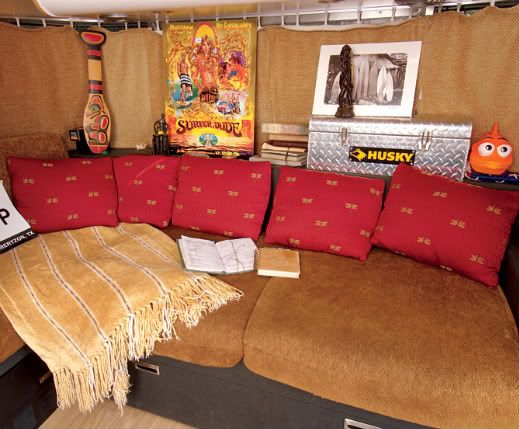 I named the Airstream the Canoe. I mean, the highways are like river ways, they're just concrete." Over the years he's personalized the Canoe with a satellite dish on the roof; a barbecue in back; book racks and ceiling netting to hold travel literature, journals and scripts; and a custom banquette and table to accommodate his six-foot frame. One of the things he really likes of his place is "It's two seconds from making your bed to putting your coffee on the stove," McConaughey remarks.





So, was it was you where expecting?

[Images via AD]