After seeing pictures of Gweneth Paltrow's house in East Hampton's I was curious to see what her good friend Aerin Lauder house would look like. Not only is Aerin Lauder allowing us to take a pic at her glamorous apartment in Manhattan but she also is opening up the doors of the her house in East Hampton's..the original house from Estee Lauder. She also shares tips on entertaining, decoration and more.

First let's take a look at her apartment in Manhattan....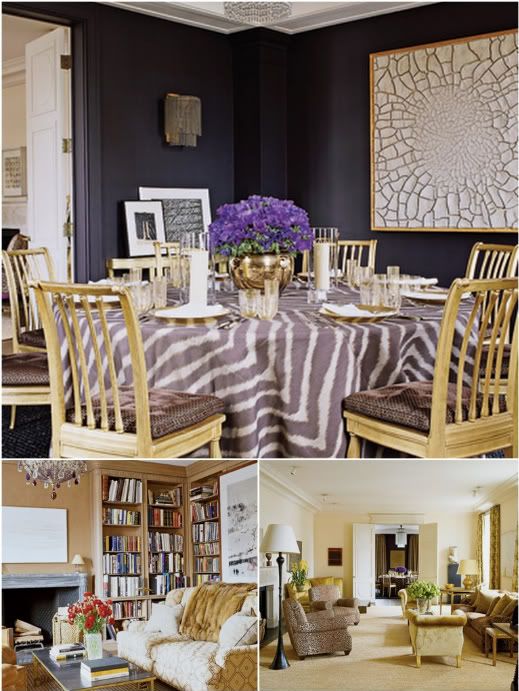 The color pallete is her aparment is predominant in neutral shades of beige and gold. When Lauder hosts dinners in the city, she does so beneath a light fixture by Émile-Jacques Ruhlmann, in a dining room painted dark, rich eggplant-purple. In the kitchen, designed by Borus, blue and white again predominate, but they appear in a boldly patterned fabric on Chinese Chippendale–style white chairs; the pale walls are punctuated by cheerful artworks by her sons. Love the wall cover done by Grazie in her dressing room.
Her tip on Entertaining in Manhattan: "It's key to put together a great guest list. We always have plenty of fresh flowers and serve comfort food everyone enjoys: risotto, lamb chops, mashed potatoes, chocolate."
Now let's see her house in East Hampton's...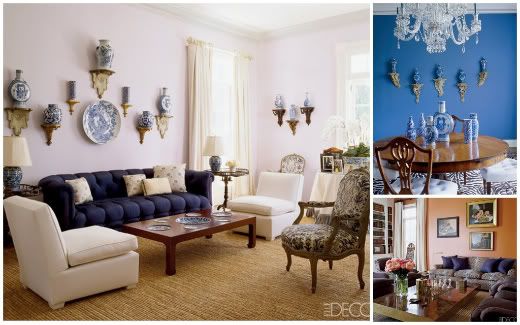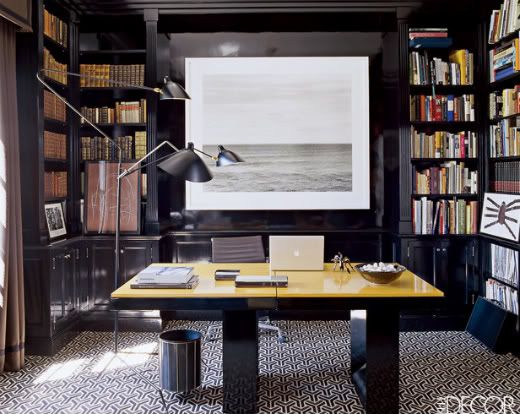 Through out the house she used again blue and white. In her main dining area antique vases are displayed on rococo wall brackets. The main living room, painted in a light lilac, continues with the motive of antique Chinese and Japanese porcelain displayed on the walls and table.
One of her son's room is awash in navy and the other bedroom features a stuffed-animal chair by Fernando and Humberto Campana. Her library is just fabulous..
Her tips on Entertaining in East Hampton: "We like to barbecue and sit at a long candlelit picnic table by the pool. The kids run around playing flashlight tag while the grown-ups linger at the table.
She also share some Decorating tips: 1. "The easiest way to freshen up a room is a new paint color." 2. "I update the dining room by finding a fabulous new fabric. I'll have it made into a tablecloth or just fold a length of it and run it down the center of the table." 3. "Make the most of children's artwork. I use terrific frames and paperweights from the Conran Shop to showcase my sons' art."

What is your favourite house, East Hampton's or Manhattan?