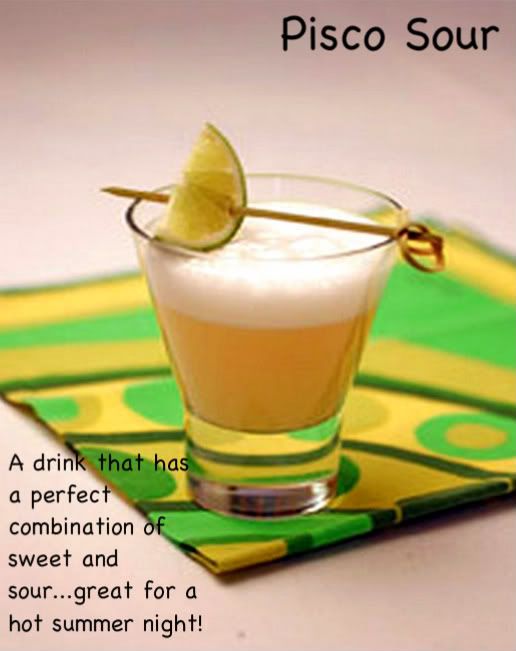 If you are looking for a fabulous drink to greet your guests on a summer night..or even better to make with them while you chat about your summer..this is it! It is a little bit more sophisticated that then mojito, with a perfect sour balance and with fluffiness of the egg white makes it a drink hard to forget. The trick is to serve it in small chilled glasses glasses (10 ounces). I tend to serve mojito when entertaining large groups..pisco makes for a more intimate dinner (2 to 4 couples)or why not just you and your significant other...! I promise you it is a night you will never forget!






Ingredients
6 ice cubes
1 oz, lemon
2oz

Pisco


1oz syrup or 1-2 tbsp confectionery sugar
1 egg white
1 dash

Angostura Bitters

.

Preparation
Mix ice cubs, pisco, egg white, confectionery sugar & lemon in an electrical mixer (at least 1 minute). Get the glasses out of the fridge, pour into each glass and add 3 drops of Bitters on top. You can add some lemon peeled as decoration!

and voila you have a fabulous drink in 5 minutes!!
With time you can start tweaking the recipe to your taste...