Buying gifts for a man it's extremely frustrating for me (and guess what I have a husband and tow boys..so I need to get better at it). Thar's why I love shopping sites that show you a variety of gifts form one place. If you are still undecided or need some inspiration for Father's Day Gift..Then here are a couple of resources:


Shop-A-
Matic
is the shopping site from New York Magazine. Love the fact that you can browse over 130 items that had been hand picked from $4 to $643 and you can also browse by category ( office, wine, hobbies, home, etc).They have cool items like wine-aromas, skin care 1,2& 3 and great fedoras. Even if you don't buy from their selection there is enough items to get you inspiration bubble working!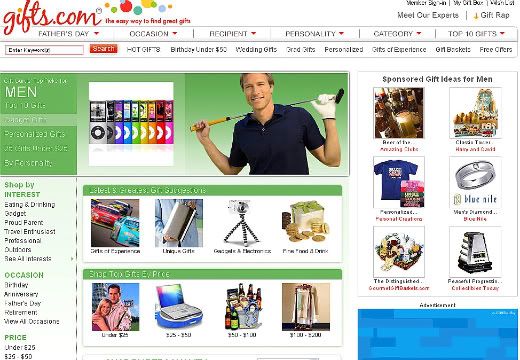 Gifts.com
is a site that just focuses on all sort of gifts...and their selection for father day is enormous. Love the fact that you can shop by personality; the geek, the devoted dad, the achiever,etc.
Thefind.com
also has a great selection for father's day. Love the fact that you can narrow the exact amount (say from 3$30-40 or $60-$80) and that you can shop for sales and coupons!!!
Hope this makes your task of buying a gift easier...!!
What about you do you like buying gifts for a man or yous struggle like me?