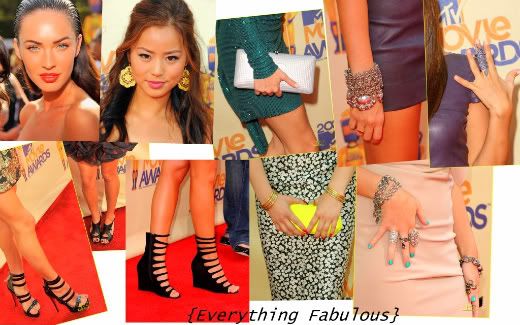 What I like about the MTV Movie Awards is that it is usually a young crowd that are not afraid to play with fashion trend and even tough they might over do it at times..they really are a great crowd to learn what is coming and what is "it". And yesterday there where no exceptions..some of the spring fashion trend that made it to the red carpet where: 
~ makeup: either grey eyeshadow with nude lips or almost clean face with bright coral/orange lipstick.

~ Jewelry: chunky big jewelry, lots of bracelets, snake rings, gold pleated brass earrings..more bracelets than necklaces!

~ Accessories: bright structured clutches (in yellow and white - but we knew that already from
here
); strappy  sandals all the way...
Bright coral and blue where seen in toenails and nails at the event last night!!

What is your favourite fashion rend from last night?