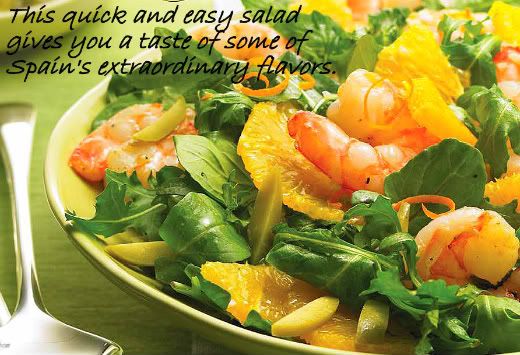 I love salads..I can eat salads all day every day. But sometimes I tend to fall into the two or three go-to salads..and after a while it gets a little bit boring. That's why I love the book from the fabulous
Jennifer Chandler
,
Simply Salads
. Try this fabulous easy salad that is perfect for a summer day. Orange, olives, sherry, and shellfish are popular ingredients throughout Spain.Pair it with a great Pinot Grigio for a fabulous dinner experience.
Salad

3/4 pound medium shrimp, peeled, tails removed, and deveined
2 tbsp olive oil
1 small garlic clove, minced
3 oranges, peeled and thinly sliced
1/2 cup sliced Spanish green olives
1 tbsp finely grated orange peel
1 bag ( 5 ounces) Baby Arugula
Kosher salt and fresh ground pepper

1. Season the shrimp with salt and pepper.
2. In a large skillet over medium-high heat, warm the oil until a few droplets of water sizzle in a pan.
3. Add the garlic and shrimp and cook, stirring occasionally, until the shrimp are opaque in the center (3 to 5 minutes).
4. Set aside and cool at room temperature.
6. In a large bowl, toss together the shrimp, orange slices, olives, orange peel, and Baby Arugula. Add the sherry vinaigrette to taste and gently toss. Serve immediate.



Sherry

Vinaigrette



1 shallot, minced
1 tsp Dijon mustard
2 tbsp sherry wine vinegar
6 tbsp extra virgin olive oil
Kosher salt and ground pepper

1. In a small bowl whisk together the shallot, mustard, and vinegar. Slowly add the olive oil in a steam, whisking to emulsify. Season with salt and pepper to taste. Makes about 1/4 cup.


... and voila you have a fabulous Spanish salad in 15 minutes.



If you like salads and cock books with fabulous pictures  this is a great book to add  to your collection. In "Simply Slads" by Jennifer Chandler you can find more than 100 delicious and creative recipes. Chandler's salad masterpieces also include dressing recommendations, recipes, menu ideas and nutritional information. All the recipes are accompanied by stunning photos of each salad ( and the pictures are spectacular). Most of the salads are easy and fast to prepare, with simple things you usually have in your fridge. Some other great recipes you can find in her  book are Watermelon and arugula salad or the classic Waldorf Salad (old time favourite of mine).