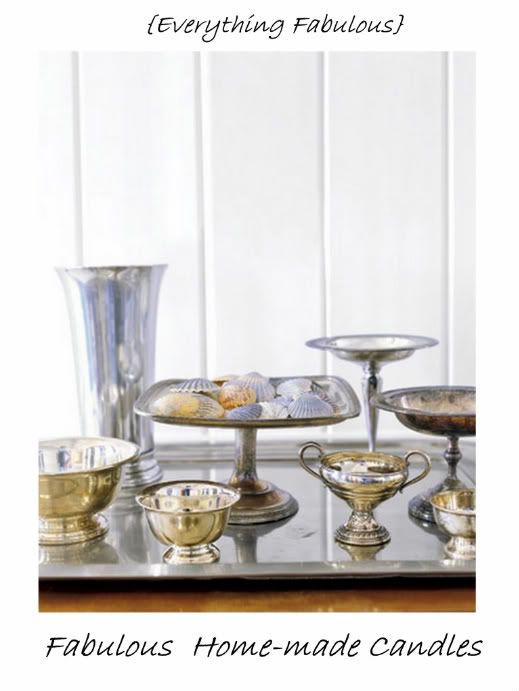 Finally I got around doing a house project that I had in my mind for weeks. I wanted to do Home-made candles using vintage silver containers! and I am here to share with you the most easy, cutest, chic project I have ever done!
I started last Sunday when I went hunting for the perfect vintage containers..and I found the cutest containers in different sizes and shapes (old sugar container with no top, candy container, etc)...and the best part, I paid anywhere from $1 to $2 dollars ( I even found and old silver tray for $2)...!!! The hard part came afterwards, when I had to clean all of them...but I kept encouraging myself thinking all that exercise was going to help me exercise my arms!!!
The project followed by a Thursday visit to
Michael's
where I bought all the essential materials .
Material

~ Glue Gun
~ Candle Thermometer ( or you can also use a candy thermometer)
~

Pre

-waxed Wire Wick with clip
~ Creme Wax by

Yaley

Enterprise 2Lbs
~ Bag clippers
~ Rose Scent for Candles (you can do vanilla, lavender, etc)
~ dry roses
~ Vintage Silver Containers or tea cups or any other container you like!!
~ Double boiler (in my case I use an old pan with an aluminum cookie cutter in the middle and on top a glass container,

measuring

jar, and then I pour some water). the important thing is that the water is not supposed to touch the glass container.

Preparation
1. Set the double boiler with water, cut wax and place it inside container. Hook on the thermometer. Burner on high.
2. Glue the wire core wick clip using the glue gun at the bottom of the containers you are using.
3. Cut the rose petals with your hands into small pieces. (you can also use lavender scents with lavender leaves, etc).
4. Attach the bag sealer clip to the end of the wire wick. The idea with this, is to make sure that the wire stays in place when pouring the wax..so make sure the clip goes from one side to the other side of the container.
5. Once the wax is melted and gets to about 180F, take it out of the stove and add color (in my case I did not so they end up looking natural, like a creamy color). Wait until it get to 175F and add the scent ( I added very little and even though you can still smell it is not as strong as I like candles to smell). next time I am going to go wild with the scent.
6. Pour the wax into each container making sure the wick stays in place.
7. I let it sit a little and then i added the rose petals so they sited at the top.
8. I checked them for the next half an hour on and off to make sure the wick was still in place...

and voila fabulous candles in literally and hour or less!!!


I now have my house full of fabulous rose candles in the cutest vintage silver containers...in my guest bathroom, my night table, coffee table, entrance table, my office....
I am planning to do more as give them as hosting gifts or even just because....!!!

Please try it..so easy and so gratifying!