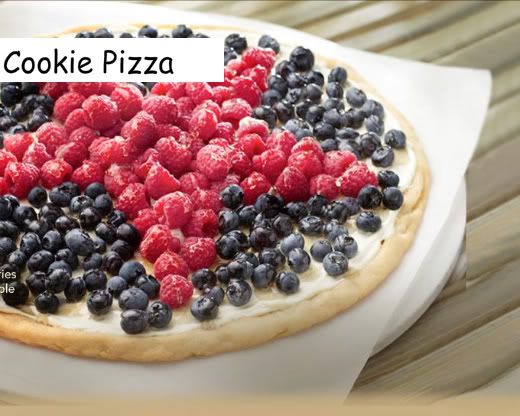 I have done the cookie pizza so many times..that friends and family that come to my house on summer days for holidays or celebrations already know they are going to see a version of it (my sister in law loves it!) . What they will never guess is that I use Pillsbury cookie dough and that it literally takes me 15 minutes to get it done since the moment I open the fridge. I have tried different versions but my favourite are the original recipe or with lemon curd. You can either serve it as dessert or perfect for tea or coffee time ( I usually decorate the table with it but serve it after dessert..). So here it is:
Basic Ingredients
1 roll (16.5 oz) Pillsbury refrigerated sugar cookies ( if you don't have Pillsbury you can just do the regular sugar cookie dough and have it int he freezer when needed it)
1 package (8 oz) cream cheese, softened ( any brand works just as good)
1/4 cup powdered sugar
Additional Ingredients
2 teaspoons grated lemon peel
2 cups fresh raspberries
1 1/2 cups fresh blueberries
1/4 cup apple jelly, melted (optional..I usually skip this step and skip the calories from it)
Preparation
1. Heat oven to 350°F. Spray 12-inch pizza pan with cooking spray. Cut cookie dough into 1/4-inch slices; place in pan. With floured fingers ( I do it without..just plain washed hands), press evenly over bottom to form crust.
2. Bake 15 or until deep golden brown ( I usually like it a little bit soft so I turn the oven off at 10 minutes and let it rest inside the oven for a little bit more). Try not to overcook it because then when you cut it it literally brakes down in pieces). Cool completely ( I put it usually in the fridge).
3. In medium bowl, beat cream cheese, powdered sugar and lemon peel until fluffy. Spread over baked crust. Arrange raspberries in large star shape in center. Arrange blueberries around raspberries. Drizzle or brush with melted jelly. Keep it in the refrigerator.
Another version is to add cream cheese with 2tbsp of lemon curd and 1 tbsp of confectionary sugar when decorating with pineapples (fresh or from cans work just as good) and grapes.
..........and voila you have a fresh and light fruit tart!