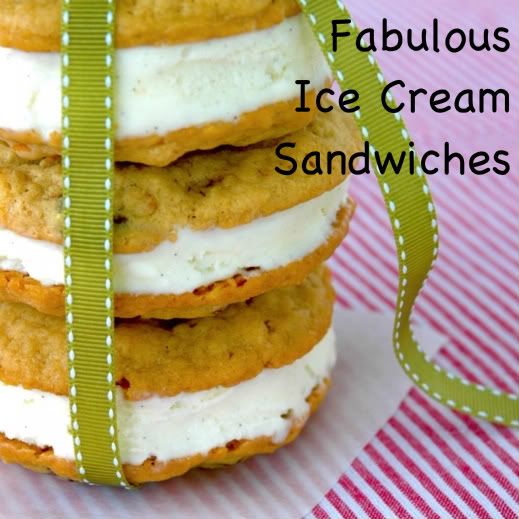 Summers are about easy and relax entertaining...and yummy things! It's about last minute get togethers and meals that get you out of the routine of life...that's why I love this easy (so easy) dessert! Get them done by Tuesday or Wednesday (while watching The Fashion Show or any other guilty pleasure) and you will have a fabulous ice cream dessert for Sunday barbecue or for a special Saturday night movie with your hubby..
This is another one of those desserts that are extremely easy but every time you serve it people go "gaga" for it. You can really use all your creative juices on the cookie you choose, the ice cream or ice creams you use and the presentation (you can use sprinkles, chocolate chip or just leave them plain)!
Ingredients
Some of the cookies you can choose are: the classical chocolate chip cookie, oatmeal cookie, Pepperidge Farms Bordeaux, gingersnaps, or shortbread. I personally like to use waffle type cookies (my favourite you can find them in IKEA and they are Danish waffle cookies) because they look a little bit more elaborated and it really is a good combination to a lot of different ice creams flavors.
You can use any cream flavor you like. As far as brand I like to work with Eddy's and Publix (soft and creamy).
Preparation
Once the ice cream is slightly softened put a spoon of it in the middle of two cookies and squeeze gently together. If your cookie has a special shape make sure you put enough ice cream to have all the borders covered. Place the sandwich ice cream for 10 minutes in the freezer. Take it out and with a knife or spoon clean all the sides until it matches the cookie shape.
You can serve it right away or freeze covered for up to 4 to 5 days. Make sure you take it 10 minutes out of the freezer before serving.
Go wild with the preparation & Have Fun!
What is your favourite ice cream flavor?
{Image via KissMySpatula}