Are you ready for the fashion event of the year? And I am not talking about Fashion Week in NY..no darlings is about the movie The September Issue.
Anna Wintour, the legendary editor-in-chief of Vogue magazine for twenty years, is the most powerful and polarizing figure in fashion. Hidden behind her trademark bob and sunglasses, she has never allowed anyone to scrutinize the inner workings of her magazine. Until now. With unprecedented access, filmmaker R.J. Cutler's new film THE SEPTEMBER ISSUE does for fashion what he did for politics in The War Room, taking the viewer inside a world they only think they know. Every August a record-breaking number of people can't wait to get their hands on the September issue of Vogue.
The movie takes you behind the scenes at Fashion Week, to Europe, on shoots and reshoots, and into closed-door staff meetings, bearing witness to an arduous, entertaining, and sometimes emotionally demanding process. Here is a look at two clips of the movie realeased yesterday!
The movie premiered last night in New York...and lets just say that la
cream de la cream
went to see the movie. Sienna Miller, Renée Zellweger, Marc Jacobs, Tory Burch, Vera Wang, Oscar de la Rents, Carolina Herrera, Marc Jacobs..you name it..!
True to herself, Anna Wintour walked the red carpet as the host of "The September Issue" premier with her legendary glasses. She choose for the event a Prada Resort 2010 Dress. A fabulous necklace, beige kitten heels and of course her trademark bob completed her look.
Anna walked the red Carpet with Sienna Miller, the cover star of the September 2007 issue this documentary chronicles. Sienna choose a blue sky Thakoon Resort 2010 strapless mini dress with gold sandals and an adorable silver clutch.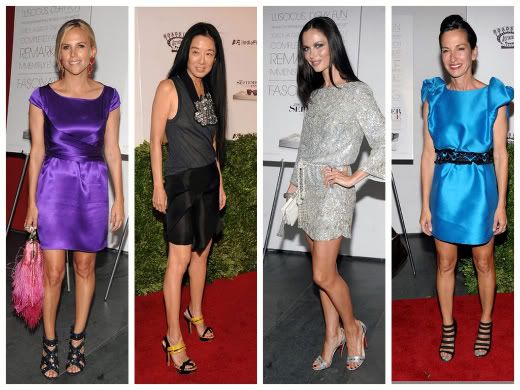 The best dressed of the night where Tory Burch in a purple Narciso Rodriguez dress and fabulous studded sandals. Vera Wang choose an asymmetrical layered skirt from her Resort 2010 Collection with a tank and a fabulous bib necklace. She wore fabulous Prada Spring 2009 snake-skin heels (to-die-for!). Georgina Chapman choose a silver long sleeved tunic dress with a silver rope tied at the waist and some silver Louboutin. Cynthia Rowley opted for a vibrant blue shortened dress from her Fall 2009 collection.
Take a look at other designers and celebrities that attended the premier last night.