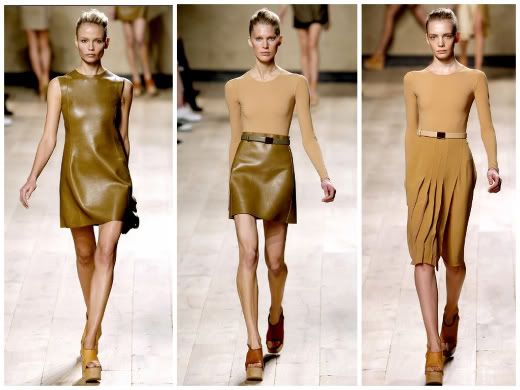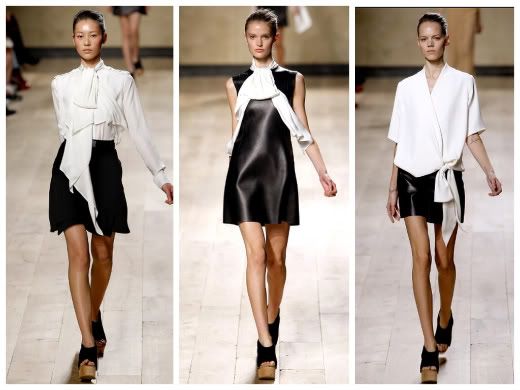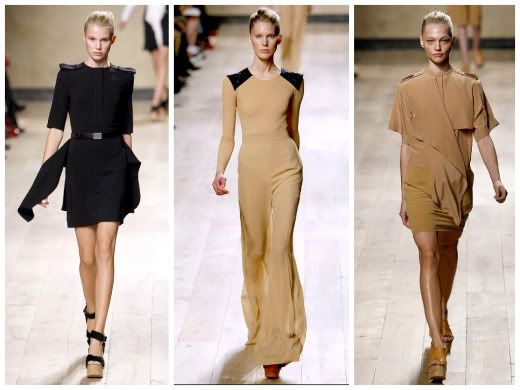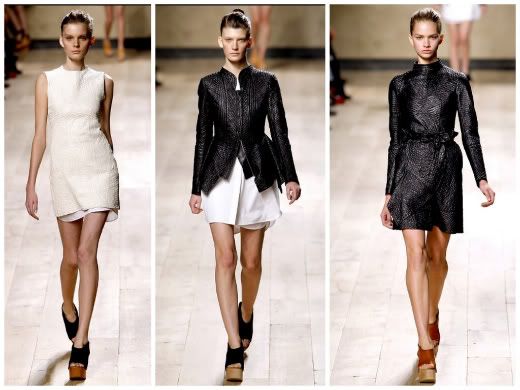 I am very excited with the second collection Phoebe Philo does for Celine. "
Phoebe Philo always had an uncanny gift for defining exactly what cool women want to wear."- quoted by Vicky Woods For Vogue October 2009... and I could not have agreed more!

The Spring RTW 2010 is a strong contemporary minimalist collection full of rich basics but in a classy utilitarianism sexy kind of way. Done using a very restraint color palette of camel, beige, white, and black...Phoebe designed a collection that is full of inspiration for the everyday ("Fabulous") woman!
Here are a couple of trends from the collection that I like:
Military Trend: military jackets are back..but used in a different kind of way (in a more chic & sophisticated way...).
High-waist, wide-leg pants! Even though I am not a fan of wearing long waist-pants I have to say the style is kind of growing in me. Love the minimalist vibe of these outfits and how the fine leather tees bring some sexiness to the look.
I never though a leather dress could be chic..but she did it! I also love the simple leather skirts she used through her collection and how chic using camel all the way looks. Now is the perfect time to go over my old leather clothes and see if I can have them tailored!!
Don't you looove those white blouses?? Love the third look...white shirt with the mini black leather skirt, so basic yet it looks stunning!
Phebe is not that much about shoulder-pads but yes about details, details & details on those shoulders!!
Love of the wedges sandals that made every single look worked!!! They have such a spring vibe to it...although I have to say not very practical for every day running around, but I love how they tone down certain outfits.
My fav are #2, 7, 12, 13 & 18! How about?? Do you like the collection?? What do you like the most about it??
{Image via Style.com}