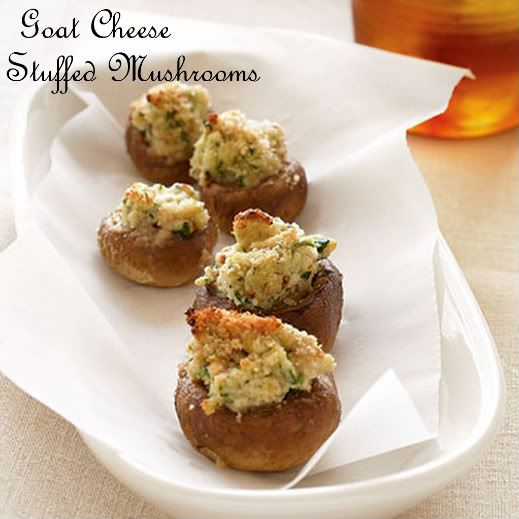 Any plans for the Super Bowl? If you are hosting the game in your house, why don't you surprise your guests with a yummy appetizer that will make you look like the hostess goddess you already are ( and it only takes 5 minutes...). Here is the recipe..


Ingredients

Olive Oil or Spray Pan for baking sheet
1 log (4-5 ounces) goat cheese (get the soft one)at room temperature
2 tbsp unsalted butter (if you like it very Frenchy do 3tbsp)at room temperature
2 tbsp thinly chopped walnuts
1 package (10 ounces)white button mushrooms, stems removed

Directions
1. Preheat oven to 400 degrees. Lightly oil a baking sheet.
2. Remove the stem from each mushroom and clean it if necessary with a damp cloth (remember that in order to retain the full flavour of mushrooms, it is better not to peel or wash them, but simply to wipe them with a damp cloth and then dry them).
3. Mix with a fork the goat cheese with the butter and the walnuts. (It literally it takes 2 minutes).
4. Spoon fill into each mushroom the mix. I usually use one of my kids plastic spoon so I can even press a little bit to make sure the mushroom is full of the mix without breaking it.
5. Place on prepared baking sheet; bake until mushrooms are tender and lightly browned, 12-15 minutes ( the mushroom should be very soft..the butter melted and the cheese softly crunchy....
6. Place it on a nice platter..and voila..you have a fabulous appetizer in 5 minutes!!

Every time I serve these mushrooms I get so many compliments...and I love the fact that you can actually do it in the morning and keep it in your fridge (covered) until your guests arrive!

Why goat cheese? Compared to the cow's milk cream cheese, goat cheese is lower in fat, calories and cholesterol. It also provides more calcium and fewer carbs than cream cheese. You can't beat that!!

For drinks I suggest Skinny Girl Margarita ( yes the one from Bethenney Frankel)!! Have you tried it?? It's completely organic..no preservatives or dyes...and it is ONLY 100 CALORIES per serving!! If you have a hard time finding it go here to get a listing of the stores in your area ( ABC liquors has it)..

*I linked back some ingredients to give you and example!

I hope you like the appetizer..if you decide to do it..please I would love to hear about it...and I really really hope you have a fabulous time on Sunday!!!