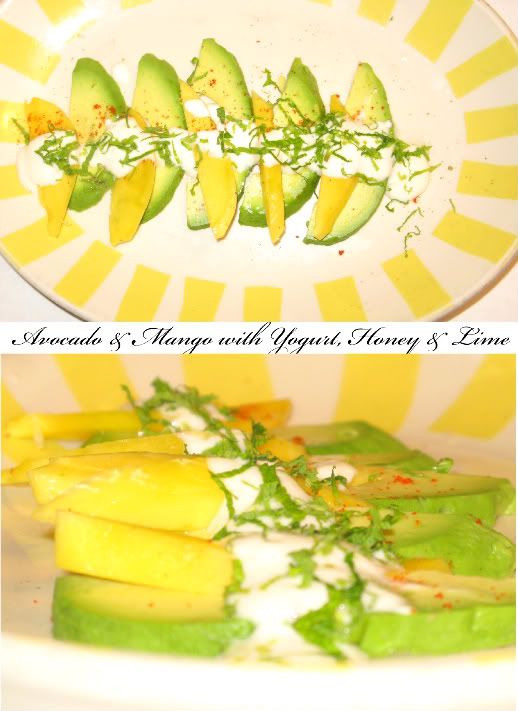 If you are looking for a new, fresh dessert to celebrate 5 de Mayo in style try this new recipe, created by chefs Mary Sue Milliken and Susan Feniger, "
California Avocado
and Mango with Yogurt, Honey and Lime".... Delicious!!!
Love the fact that is super healthy....the yummy colors will dress any table...you can actually do it in 5 minutes...and it literally melts in your mouth!! It's really a great way to end a day of celebration & fabulous food (as you can see I am starting with dessert...I'll share more recipes to celebrate 5 de Mayo later on the week...!).
Keep reading for recipe and more styling pictures.




Ingredients


2 ripe Fresh California Avocados, chilled, halved, seeded and peeled
2 Mangos, chilled, halved, seeded and peeled
Cayenne pepper, to taste (I personally like it also with Valentina Powder or Tajin, both are Latin mixes and usually eaten with fruit during summer).**
Salt, to taste
3/4 cup plain Greek yogurt
2 large Limes
3 tbsp Honey
4 mint sprigs, for garnish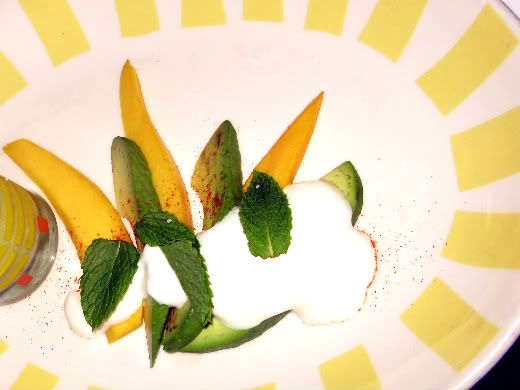 Preparation
1. Slice avocado & mango halves lengthwise in 1/2-inch slices.
2. Arrange the fruit on individual salad plates, alternating the avocado and mango slices.
3. Mix equal parts Cayenne pepper and salt and lightly sprinkle over fruit, to taste.
4. Whisk together yogurt, lime juice and honey in a small bowl.
5. Just before serving spoon 2 to 3 tablespoons of dressing in a stripe over each salad.
5. Roll the mint leaves and cut in thin slices for garnish. Serve immediately!

...and voila!! you have a fabulous, healthy, new dessert!! Another way to style the dessert would be to use shot glasses, put the yogurt at the end and place the halves of mango and avocado standing in the glass....! Cute!

** you can create some Mexican pop-corn by adding some Valentina powder to it!!



{Image via Sasha

Ezquerra

for Everything Fabulous... moi!}