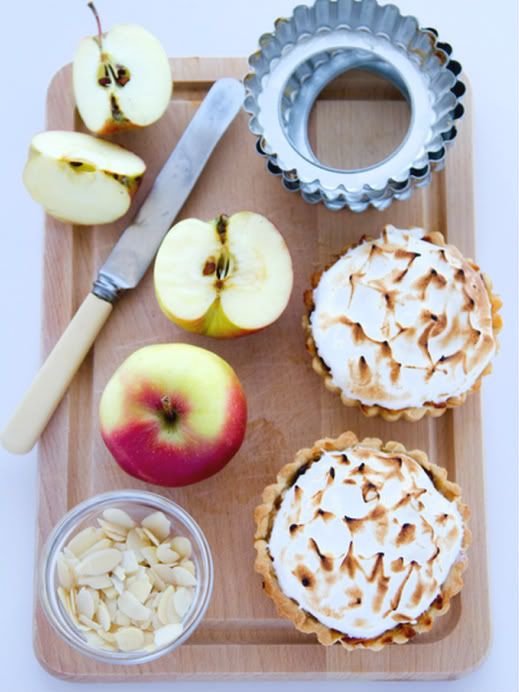 Love baking this time of year... and when I read this recipe at Mowielicious it totally caught my attention. It looks like strudel meets lemon meringue tarts.. doesn't it? My Austrian grandmother is going to be proud if I an bake a good strudel! It has apple, raisins, vanilla, cinnamon, all topped off with a quick & easy soft meringue that doesn't even require baking...!! If I can master this dessert it will be great for Christmas lunch!! I guess now you know what I'll be baking this weekend!

Here is the Recipe:

Ingredients

For the pastry
195 g (14 tbsp) cold unsalted butter
270 g (2 cups unsifted, dipped) plain flour
45 g (1/4 cup) granulated sugar
6 tablespoons cold water

For the filling
400 g (3 + 1/4 cups) coarsely shredded apples (3–4 apples, depending on size; Cox apples work best in this recipe)
50 g (1/3 cup) raisins
60 g (1/3 cup) caster sugar
1 teaspoon vanilla essence (or seeds from 1 vanilla pod)
25 g (2 tbsp) unsalted butter, at room temperature
30 g (1/3 cup) flaked almonds
zest of 1 lemon
1/2 teaspoon cinnamon

For the meringue topping
5 egg whites
300 g (1 + 1/2 cup) caster sugar

Instructions
1. Grease 8 small tart tins (roughly 4″ or 10 cm in diameter and about 1″ or up to 3 cm deep).
2. For the pastry, mix the cold butter, flour and sugar in a food processor, then add the cold water. Form a ball, wrap it in cling film and refrigerate for 30 minutes.
3. To make the filling, simply mix all filling ingredients together in a bowl.
4. Preheat oven to 200˚C/390˚F. Roll out the pastry into a circle 40 cm (15.75″) in diameter. Using the rim of one tart tin, cut out 8 circles of pastry and place them into the tart tins. Gently press the pastry into the corners and sides.
5. Fill the pastry tins with the apple filling and bake in the oven for 25 to 30 minutes, or until golden brown.
6. For the meringue, spread the sugar on a parchment-lined baking tray and place it in the oven for about 5 minutes. Just before you take the sugar out of the oven, start whipping the egg whites in a free-standing mixer until foamy. Spoon or pour the hot sugar slowly but steadily from your baking tray into your egg whites. The mixture will become very hot and cook the egg whites. Keep whisking for about 10 minutes until the meringue cools and thickens.
7. Remove your apple strudel tarts from the oven, allow to cool on a wire rack and top with the meringue. To add some color to the meringue, use a kitchen blowtorch on the tips of the meringue, or place in the oven (with top heat only) for 2 minutes.


Substitutions
You can substitute the apple for almost any fruit. This works really well with stone fruit and/or berries.
The meringue topping can be substituted for a simple dollop of whipped cream or chocolate sauce.
The pastry can easily be substituted for ready-made pastry.